Often an afterthought when it comes to updating the wardrobe, a belt is nonetheless an integral, if understated, accessory on men. In fact, leaving home without one is considered a fashion faux pas by many experts. Before we jump into the nuances of belt selection though, you need to be clear about the purpose of a belt – which incidentally is NOT meant for holding your pants up!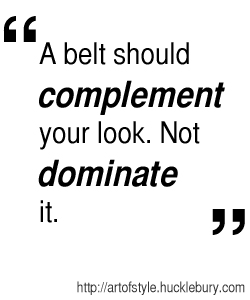 As a fashion accessory, the goal of a belt is to complement your look, rather than dominate it, so if you had your eye on that garish one with the large cowboy buckle, you might want to reconsider. Although a simple apparel, there are certain criteria to note that we hope will reduce your selection headache when you embark upon your next belt purchase.
1. Width
The de-facto for a dress belt, worn on formal occasions, is between 1 inch to 1.5 inches in width, which roughly equates to the width of your thumb. Anything wider than that is considered casual and too wide to be worn to the office.
2. Length
Always choose something that is one size larger than your waist. If your waist size is 34 inches, then find a 35-inch belt. Generally when trying on belts, aim for something that fits snugly on the 3rd notch – anything less doesn't give much leeway.
3. Buckle
For both formal and casual wear, we recommend going either the conventional belt buckle route or a nondescript, plain metallic belt buckle, as shown below respectively. None of the large and loud cowboy buckles that draw attention, unless the situation demands it.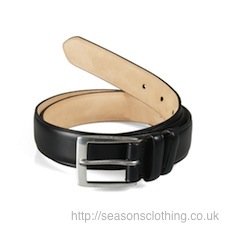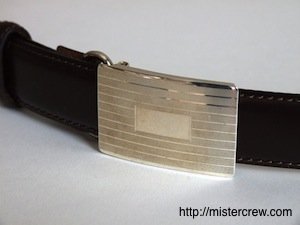 4. Color
You should ideally be getting either a black, brown and/or tan belt. The fashion standard is for the belt to match the shoes – hence it is recommended to purchase both together. However, since they are worn sufficiently far enough, it is ok if the colors are only closely matching and not an exact match.

5. Finishing
For your formal belt, we recommend getting a plain glossy finish, as that closely matches the polished shoes normally worn. For a casual look with jeans and sneakers, go for one with a matte and dull finish.
6. Leather
The leather used for making a belt determines its cost, so it is important to know the types of leather in use and their costs.
Synthetic (fake) leather is the cheapest but it also tends to wear out the fastest.
Genuine leather belts, which are layered – internally with scrap leather and a final outer layer of either full (usually calfskin) or synthetic leather, are moderately priced and tend to last for a reasonable period.
For those who don't mind spending more, there are full leather belts, which are more susceptible to scratches but are the longest lasting if well taken care of.
Beyond this come the exotic leather belts, which can cost up to $1000 and are made from ostrich, lizard, and alligator skins (amongst others) and are normally patterned according to the skin or scales of the animal used. Hence, these are more attention drawing.
Before we round off the article,  here's a quick tip for ensuring yours lasts you as long as possible: –
Belt Care
In order to maximize the lifespan of your belt, make sure to not leave it in the pants between uses, as it damages the leather over a period of time. Hang it vertically, ideally away from the sun to prevent the leather from drying out and cracking.
And there you have it –  all you need to ensure your next belt purchase is an informed one!
Key Takeaway about belts you should know
A belt is meant to complement your look, not dominate it. We cannot stress this enough.
For the one-belt man, go for black genuine leather with a glossy finish.
If you were to add one more to your closet, go for a slighter thicker, matte finish brown casual belt to wear with jeans.
Never leave your belt in your pants – hang them up away from sunlight between uses – for a belt that lasts.